Whether you are hosting a party or just treating yourself, fresh fruit cocktails are always a win. Raising the Bar Liquors has put together 10 of our
favorite fresh fruit cocktails. We hope to give you drink suggestions that can be made from what you may already be growing in your garden. Drinks concocted with your own picked herbs, vegetables, and fruits for garnishing and flavoring is always a hit when hosting a party.
As a cocktail gardener, it's time to become a little adventurous and expand your happy-hour menu. There are so many things you can use in your cocktails – from spearmint to blueberries, peaches to mint, and marigolds to watermelon. These ingredients for delicious fresh fruit cocktails can be within reach of your own imaginative backyard.
Let the mixology begin. 
Fresh Fruit Cocktails with Bourbon
Peach and Bourbon Goodness
Bourbon doesn't go well with many fruits. It's perfectly terrible with tropical fruit or berries. But it's quite wonderful with cherries, as in a good Old Fashioned. Bourbon is also terrific with orange liqueurs. Citrus can mix with just about any cocktail. But peaches, you ask? Oh yes. Bourbon and peaches are a match made in fresh fruit cocktails heaven. Use overly ripe, runny peaches, spearmint, and sugar. You might prefer powdered sugar, but the cornstarch will render your drink lumpy. Superfine sugar is best. Regular sugar will work. Make a simple syrup by mixing sugar and water. Heat on the stove so the sugar dissolves. Put it in the freezer for cooling. It will blend and keep the sugar from gathering at the bottom. Simple syrup doesn't keep well, so prepare a large batch for a party setting.
Minty Peach Julep 
1.5 oz bourbon
1 peach
1 mint sprig
1 tsp simple syrup
A splash of Domaine de Canton
One slice fresh ginger
In a mason jar or any large glass, mix a quarter (or up to a half) peach, most of the mint (save some leaves for a garnish), sugar, and ginger liqueur. Crush
with a wooden spoon. Mix in a jar, top it off with crushed ice, fill with the bourbon, and enjoy. If you don't like the mashed produce at the bottom of your cocktail, add the bourbon, shake with ice, then strain into the glass over crushed ice. Ice that is crushed is very important. No crushed ice? Cover regular ice cubes and crush them with a hammer. Taste and adjust to your liking. Squeeze a peach slice around the glass rim, garnish with mint and enjoy the fruit cocktail drink goodness. Now head to the porch. Bourbon is best when sipped on a porch with good friends.
Peach Old-Fashioned
1.5 oz bourbon
.5 oz thyme simple syrup
One half fresh peach
Bitters
Thyme
Note: Melt sugar and water. Add the herbs and allow to steep for one hour, then strain. Combine the bourbon, simple syrup, and peach in a shaker and crush the peach for the juices. Shake over ice, strain, then refill with more ice. Add just a tad of bitters, then garnish with thyme.
Hot Chamomile Toddy
1-2 oz bourbon
1-2 oz honey-chamomile syrup
Wedge of lemon
6-8 cloves
Note: Make a honey-chamomile syrup by mixing honey and hot water. Add the chamomile blossoms, let steep for one hour, then strain. Pour the hot water into a glass that can withstand the heat. While waiting for the glass to heat, press cloves into a lemon rind and set aside. Dump the water from the glass, coat the inside with the syrup, add the whiskey, and top off with more hot water. Squeeze the lemon and drop it into the glass. Scrumptious.
Fresh Fruit Cocktails with Vodka
and Rum
Lemongrass Delight
1.5 oz rum
.5 oz lemongrass syrup
1/4 lime
3 mint sprigs
1 stick lemongrass
Club soda
Crushed ice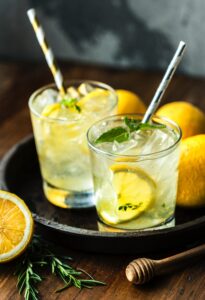 Save a mint sprig for garnishing. Prepare a simple syrup by melting sugar and water, add the lemongrass, let steep and cool for an hour. Mix the rum, mint, lemongrass, and syrup in a  shaker, squeeze the lime juice and then drop in the lime. Using a wooden spoon, crush the ingredients so the flavors release. Shake with ice and strain into a glass of more crushed ice. Top it off with club soda and a mint sprig. Delish!
Berry Deliciousness
1.5 oz white rum
.5 oz simple syrup
Mint 
Strawberries, raspberries, or blueberries
½ fresh squeezed lime
Sparkling wine
Save a mint sprig or a berry for garnishing. Squeeze the lime into a shaker and add the rest of the ingredients. Crush the herbs and berries and herbs with a wooden spoon, shake over ice and strain. Top it with sparkling wine and add garnish. (You're berry welcome).
Lemon Drop
1.5 oz Mandarin Vodka
.5 oz Cointreau
.5 oz lemon juice
Sparkling wine
1 pansy with the stem
1 lemon slice
Shake the vodka, Cointreau, and lemon juice over ice and pour in a glass. Top it with the sparkling wine. Segura Viudas Cava is a great choice and comes in single serving bottles. Bury the pansy in the lemon slice for a great garnish.
Fresh Fruit Cocktails with Tequila
Pineapple Sage
Want to surprise your guests with fresh fruit cocktails that contain an unusual item? Combier Kummel is a modern twist on cumin, caraway, and fennel. If you can't get or find Kummel, try blending tequila and pineapple. They are fantastic when mixed together. Use pineapple juice and orange liqueur and you'll have a recipe that you love.
Piña Agave
1.5 oz agave tequila
2 oz fresh pineapple juice
.5 oz agave nectar
2-3 fresh jalapeños
2-3 sage leaves
1/2 lime
Lemon-lime soda
Squeeze a lime in a shaker, then add ingredients. Crush the peppers and sage to release all of the flavors. Shake over ice and strain. Pour into a tall glass with ice and top it off with lemon-lime soda as you prefer.
Agave y Sandía
1.5 oz agave tequila
.5 oz orange liqueur
4-5 chunks fresh watermelon
1/4 fresh lime
3-4 sprigs spearmint and rosemary
Save a bit of watermelon or herb for garnishing. Mix all of the ingredients in a shaker and crush with a wooden spoon. This will release all that delicious watermelon juice. Shake with ice, strain, and add your garnish. Fresh fruit cocktails just got yummier. 
Bravo to you for allowing your very own garden make for a sensational party with friends, family, and the most delicious fresh fruit cocktails. Don't have all the ingredients? Visit Raising the Bar Liquors, a full-service liquor store in Lee's Summit. Cheers!