Valentine's Day is a day for the celebration of love, and there's no greater way to celebrate it than with a good drink. Raising the Bar Liquors gathered our favorite Valentine's drinks. Keep reading for cocktail recipes that are just right for the day of romance.
Our 10 Favorite Valentines Drinks
Pomegranate Mimosas
For the first of our Valentine's drinks, The Pomegranate Mimosa is a cocktail that blends a sweet taste with a slightly tart kick. It has a vibrant ruby red color that perfectly conveys the spirit of Valentine's Day. It's an easy cocktail to make, taking only five minutes to combine all of the ingredients. The cocktail is made with sweetened pomegranate juice, pomegranate seeds, which are used for garnish, and a bottle of champagne. 1/4 cup of sweetened pomegranate juice is added to a champagne flute, and a little champagne is used to top it off. The seeds are then added on top. A full cup of the pomegranate juice creates four drinks, which leaves two for each romantic party.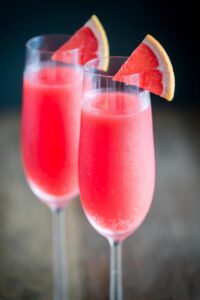 Valentine's Day Mimosas
One of our most creative Valentines drinks is our Valentine's Day Mimosa. How is this mimosa different from the Pomegranate? The Valentine's Day Mimosa requires a little more creativity. This cocktail is made using strawberries, grenadine, and a bottle of chilled champagne. First, the strawberries are cut to make heart shapes, and then placed on skewers in groups of two or three. Fill champagne flutes two thirds of the way with champagne, and add a tablespoon of grenadine to top it off. Place the skewers in the champagne flutes and the cocktail is complete. You can get 4 drinks with this recipe, and it takes 10 minutes to make, which is a little longer than the Pomegranate Mimosa, but it's worth it for a tasty cocktail that gives a physical representation of the symbol of love.
Valentines Drinks – Red Room Sangria
This cocktail is one that will really get you in the mood for love, as it contains aphrodisiacs that make the taste buds tingle. Red Room Sangria, one of our favorite Valentines drinks, is made using a mix of cherries, honey, bourbon, pomegranate juice, an apple, a peach, and a bottle of dry red wine. Mix 1/3 of a cup of bourbon, 1 tablespoon of honey, 1/3 of a cup of pomegranate juice, and a bottle of wine in a pitcher, making sure to dissolve the honey completely. Slice the apple, dice the peach, pit and halve 1/2 lb of cherries, and add them to the pitcher. Let the cocktail sit for at least an hour in the fridge so the fruit can soak up the mixture. After an hour, the sangria can be poured and served. This recipe is enough to make four drinks.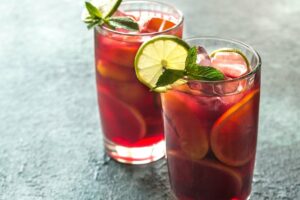 Rose Petal Vodka
Nothing says "I love you" like roses on Valentine's Day, which is why Rose Petal Vodka is the perfect cocktail to say it. Romantic Valentines drinks that Incorporate rose petals into ice cubes as well as the garnish are our favorite. To make the cute cocktail, simply add some rose petals to a normal ice tray and cover them halfway using distilled water. Place them in the freezer for a few hours to let them freeze a little. Take the tray out of the freezer, fill with more distilled water, and place it back into the freezer to turn the half ice cubes into full ones. Once completely frozen, the ice cubes will have rose petals frozen in them. Place a few of the rose petal ice cubes into a glass and pour in 1 1/2 ounces of vodka. Finish by topping with rose petals.
Good Night Kiss
If your aim for Valentine's Day is to get a good night kiss, then you'll want to serve this aptly named cocktail. It's made using Angostura bitters, champagne, Campari, and a sugar cube. A dash of the Angostura bitters is added to a sugar cube and the cube is placed in a champagne flute. Pour in 4 ounces of champagne and then one ounce of Campari to finish. The mix of the Campari, champagne, and Angostura bitters creates a beautiful amber-like color, and the cocktail has an impeccable taste.
Love Potion
Sometimes people yearn for a love potion to be created, but one already exists and is included in our favorite Valentines drinks. The Love Potion cocktail is a mixture of gin, lime juice, elderflower liqueur, and rosé Champagne. To make it, first add 1 ounce of lime juice, 3 ounces of gin, and 1 ounce of elderflower liquor to a cocktail shaker. Add some ice and give the shaker a quick 10 second shake. Over ice, strain the mix into a cocktail glass and finish off with 5 ounces of rosé Champagne.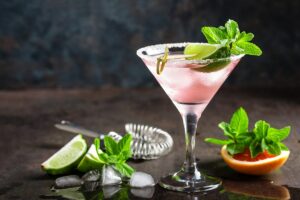 Champagne Cocktail
Sometimes on Valentine's Day, a simple Champagne cocktail is all you need. Start by adding a sugar cube into a champagne flute and put 3 dashes of Angostura bitters on it. Slowly add your champagne of choice and add some twisted lemon peel for a little garnish.
Lady in Red
Just like the real thing, the Lady in Red cocktail will leave heads turning. Make it by shaking 1/2 ounces lemon juice, 1/2 ounces of strawberry puree, 1/4 ounces of Creme de Cassis, and 2 ounces of Fords gin in a mixing tin. Strain into a champagne flute and add champagne and the twisted lemon for garnish.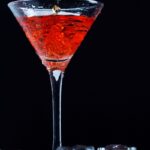 More Valentines Drinks – Bubble Bouquet
Another rose based cocktail, the Bubble Bouquet is beautiful and will set a romantic mood. Add ice, 1 1/2 ounces Absolut Original, 1/2 ounces simple syrup, and 2 drops of rosewater to a shaker. Shake and strain to a champagne flute. Top with champagne and rose petals.
Cilantro Jalapeno Margarita
Spice things up this Valentine's Day with a Cilantro Jalapeno Margarita. Visit Raising the Bar Liquors for your favorite tequila and triple sec. You'll also need lime juice, cilantro, simple syrup, and jalapeno. Combine 1 ½ ounces of both tequila and triple sec, ½ ounce of lime juice, splash of simple syrup, and 1 slice of jalapeno. Shake and strain over your margarita glass, and then garnish with three sprigs of cilantro. Salud!
These Valentines drinks are sure to leave a wonderful taste in your mouth and thoughts of love on your mind. Visit Raising the Bar Liquors to find exactly what you need to make the best Valentine's Day cocktails.