Top 11 Irish Whiskeys to Try for St. Patrick's Day
It's almost St. Patrick's Day, and what's better than trying the best Irish Whiskey on this famed holiday? In the United States, it seems that everyone celebrates St Patrick's day regardless of whether they are Irish or not.  This is one day of the year that everyone can be Irish and join in the fun. The question is how are you celebrating this year? Before Raising the Bar KC's gets into our favorite Irish whiskey, let's take a step back into who St. Patrick was and how this day of celebration came about.
Why Is St. Patrick's Day Celebrated?
Every year on the 17th of March people gather in their green outfits to celebrate. St. Patrick was captured by pagans and taken to Ireland where he later learned to love the Irish culture and spirit. After years of studying at monasteries, he was later ordained as both bishop and priest. He was even commissioned as an apostle of Ireland by Pope Celestine I.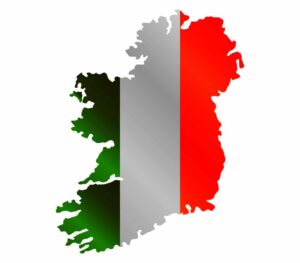 For years he encountered hardships with druids and pagans who weren't willing to give up their power over old religions. They were reluctant mainly because they feared him and his strong belief in Christianity. While several members of the ruling monarchs family converted, King Laoghaire didn't convert. Sooner than later, older religions began to fade and Christianity became well known. 
Patrick continued on in his journey from town to town and tore down any representation of temples and idols and soon established the Catholic Church. The first cathedral in Ireland was already erected by AD 444 and was built in Armagh. Patrick went on to baptize, confirm, and ordain several priests throughout the land.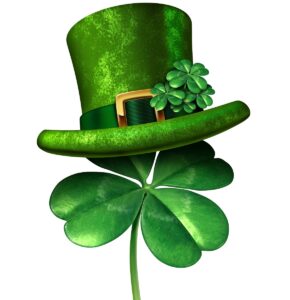 St. Patrick was also the one responsible for building monasteries and schools with thousands coming to church and following his direction. He was well known and considered great by many for having accomplished all of these things in less than thirty years. He later died on the 17th of March 461 from natural causes leaving behind such a great legacy to be celebrated.  
Celebrate St. Patrick's Day with Irish Whiskey
Knappogue Castle 14-Year Old Twin Wood
This fine Irish whiskey was the 2016 winner for two dashing fourteen-year single malts. However, they were left to age in two separate yet distinct casks. One being the Oloroso sherry cask and the other a bourbon barrel. 
Due to this, they are loved for their hints of fruity flavors like grapefruit and green apple. While having a sip, you're also going to taste some striking vanilla notes that deliver a warmer, light taste.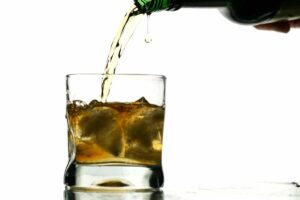 The Tyrconnell 15-Year-Old Madeira Cask Finish Single Malt
This selection is known as one of the most aged definitions of Irish whiskey from one of the oldest producers. They've also released a double-distilled variant crafted from pure spring water and the finest Irish barley. When it comes to aging, it was left to age in American White Oak bourbon barrels where it was left to finish in some of the finest Portugal casks. The Tyrconnell starts soft and then brings in a strong surprise of spice where it soon dries down to fresh punch.
Teeling Single Grain
This selection perfectly stands out from the crowd. It focuses on corn while others use only a single element of corn. The Teeling Single Grain was left to mature in California Sauvignon casks. This leaves a balanced berry taste that comes from the corn and it was bottled to ensure that no flavors are lost.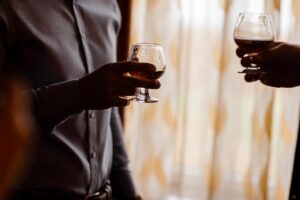 Slane
Irish Whiskey
If you're looking for a crowd favorite, you're going to love this St. Patrick's Day hit. Slane's triple cask whiskey can be enjoyed on the rocks where it delights any palate. You'll experience the finest Irish whiskey with flavors of butterscotch and caramel, and it even leaves a sweet spice scent for your nose to enjoy as well. 
Kilbeggan Single Grain
The Kilbeggan was left to age for a number of years where it gracefully absorbed the flavors of its cask. Due to the finishing of wine and bourbon barrels as well as a single grain, there's a smooth rich flavor to look forwar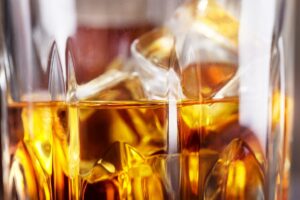 Tullamore D.E.W. Rum Cask Finish
Tullamore was finished in an XO cask after it was triple distilled and blended with grain Irish whiskey and malt. The casks add warm spices and sweet flavors that put you into the mood for a tropical vacation every time. If you're interested in savoring the banana, raisins, dates and deep caramel notes, don't forget to sip this Irish whiskey slowly. 
2 Gingers Blended
If you're interested in a newer taste, you just might love this one. Filled with sweet flavors, malt and loads of smoothness, 2 Gingers tastes like it was made by the ultimate experts. Aged for just 4 years, the woody base of this blend is complemented with caramel, vanilla, citrus, and honey for the perfect blend.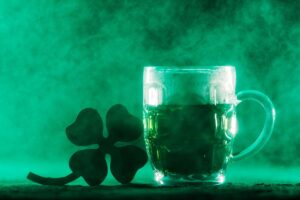 Bushmills Red Bush
Bushmills dates long before St. Patrick's day was every celebrated. Aged in bourbon casks to create that perfect silky smooth finish, Bushmills is a favorite Irish whiskey of Raising the Bar. To keep up with tradition, Red Bush is usually sipped over a large cube of ice on St Patrick's Day. 
Jameson Caskmates IPA Edition
Freshly added was the Caskmates collection. It featured the perfect yet complex blend in a festive green bottle. Being cured in IPA beer-soaked barrels did justice as it added those perfect hoppy crisp notes with a hint of citrus. 
Method and Madness Single Pot Still
With the most non-traditional Irish whiskey bottle, you're sure to embrace everything that comes with this blend. Matured in sherry barrels and finished in French chestnut, the mix of a 31-year old grain, and single malt takes this one to new heights. The finishing result is a mixture of spice, and sweet things. 
Celebrate St. Patrick's day this year with the best Irish whiskey, and a renewed appreciation of why St. Patrick's Day is celebrated in the first place. Raising the Bar KC, your favorite hometown liquor store, loves St. Patrick's day and most of all, Irish whiskey. Visit us before the holiday to find the best Irish whiskey, craft beer and more.