Maybe you're typically a whiskey and water drinker, but it's time to shake things up and turn your whiskey into a new and refreshing cocktail. Raising the Bar Liquors has the best classic whiskey cocktails for this holiday season. With drinks like the Revolver and the Peach Whiskey Iced Tea, you'll have fun playing bartender in your own home. From delicious combinations to the healthy benefits of bourbon, it's easy to see how whiskey is the favorite liquor of many across the world, especially the cocktail world. 
For the whiskey lover in you, here are some recipes that give a twist on classic whiskey cocktails, inspiring your inner mixologist. We have gathered up some great whiskey cocktails for you to make at home and impress your friends. There are even a few classic whiskey cocktails for you old-school types. Grab a rocks glass, and let's dive in.
Whiskey Cocktail Recipes
IRISH MULE
If you enjoy a good mule, and you're a fan of good whiskey, you will absolutely love an Irish Mule. It has everything you love in a mule, the ginger beer and lime juice, but the added Irish twist makes this one of our favorite classic whiskey cocktails.
Just replace the vodka with Irish whiskey, and you will have a great tasting mule that everyone will love. If you like a sweeter tasting mule, simply add in a little more ginger beer. If a stiffer drink is what you want, add more Irish whiskey. Try it with Jameson. You'll love it.
CLASSIC MANHATTAN
There is no way to top a Classic Manhattan. Rye whiskey, sweet vermouth, bitters, and a few drops of cherry juice, and you'll have a classic Manhattan. Add a cherry for garnish. Try Bulleit Rye. It's an excellent Rye whiskey. There's nothing quite like a Classic Manhattan when picking our favorite classic whiskey cocktails.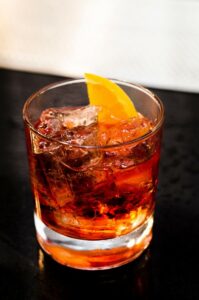 THE REVOLVER
Raising the Bar Liquors has some "not so" classic whiskey cocktails for you. What is in a Revolver, you ask? There are four yummy ingredients in the recipe. They include your choice of bourbon, orange bitters, a coffee liqueur, and an orange peel as a garnish. This is for the true bourbon lover, for sure. You'll love the hints of coffee and orange flavor that makes this spirited cocktail the perfect after-dinner drink. It's great for winding down the day in a delicious fashion. Try a Kentucky bourbon for a perfectly made Revolver.
OLD FASHIONED
If you want to make this cocktail just right, use Angostura bitters, simple syrup, whiskey, a cherry garnish, and an orange peel. Mix the whiskey, syrup, orange peel, and bitters in a glass, shake with rocks, then strain. Toss in the orange peel and cherry. The key to this classic whiskey cocktail is how you treat the orange peel. Squeeze and twist the peel in order to get all of its flavor and oil. You'll love it.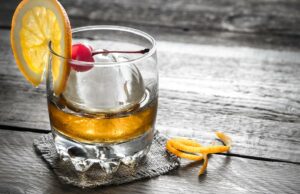 TALLULAH
The Tallulah comes to us from Birmingham, Alabama. The drink uses a traditional southern recipe of peanuts and Coke, with a cocktail twist, of course. Using an old Tennessee whiskey like Jack Daniel's, pouring in a coke, adding peanut orgeat syrup, and tossing in peanuts makes a drink so good, you'll be remembering your childhood throughout the experience.
IRISH COFFEE
No discussion of classic whiskey cocktails can exclude Irish Coffee. When the weather gets cold outside and the holidays come around, it's the time for spiking your coffee with Irish whiskey. There are many ways of making an Irish Whiskey, but we recommend brewing coffee, adding Irish whiskey, a little sugar to taste, some heavy cream, Kahlua, and a dash of maple syrup.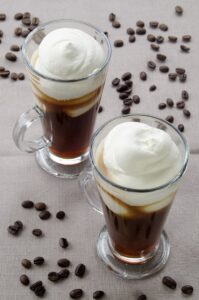 FIREBALL HOT TODDY
For all of you Fireball fans, here's a new way to enjoy spiced whiskey without just doing shots. Try a Fireball Hot Toddy by combining Fireball in a mug. Add hot water, lemon juice, and honey. For an extra jolt of flavor, use black tea rather than hot water. This is so easy and delicious. And you won't make yourself sick from slamming shots. 
APPLE PIE WHISKEY
Feeling like a little dessert with your drink? Say no to the apple pie and say yes to Apple Pie Whiskey. This cocktail captures all of the characteristics of a slice of mom's apple pie – without peeling apples or making a pie crust from scratch. All that's needed is apple cider, cinnamon whiskey, and vanilla vodka. Just shake for a few seconds, pour over ice and add a cinnamon stick. Dessert is ready.
PEACH WHISKEY ICED TEA
You may be enjoying your time in the sun, in the porch shade, or preparing a lavish Sunday brunch. Peach Whiskey Iced Tea is as good as it gets. Puree peaches in a mixer with lemons and sugar to taste. Pour over black tea, add your favorite whiskey, and toss in a single slice of peach for a beautiful garnish.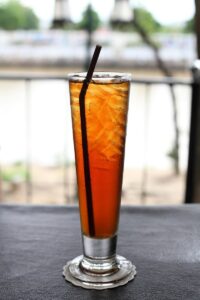 BLOODY HELL
If you love blood oranges and a bit of spice, you'll go crazy for a Bloody Hell. This drink combines the best of beer and whiskey in a cocktail hybrid that will satisfy your beer side and your whiskey side. Use fresh blood oranges, jalapeños, and a dash of agave. Shake the ingredients and pour over your choice of IPA. Enjoy!
SMOKY WHISKEY MULE
Are you desiring a little fire with your bourbon? Try a Smoky Whiskey Mule. It's made with baked bacon, chili powder, and brown sugar. Toss it all into a shaker with Jack Daniel's and let steep. The longer it sits, the more the whiskey becomes infused with the smoke and spice. Once you're ready to serve, strain it into a highball glass, add lemon juice and some ginger beer. It's a fizzy, smoky whiskey bonanza.
CAMPFIRE COCKTAIL
Remember every cowboy movie you've ever seen? There were always two things: whiskey and campfires. Take your next campout experience to the ultimate level with a Campfire Cocktail. Begin with marshmallow simple syrup. Then, in a whiskey glass, add some Bulleit Rye Whiskey and a dash of Laphroaig Scotch Whiskey. Add the marshmallow syrup, and stir. Serve with your favorite S' mores recipe!
Raising the Bar Liquors hopes you have found a few of these recipes worthy enough for your classic whiskey cocktails collection! Visit Raising the Bar for the ingredients and enjoy sipping on your delicious whiskey creations.