Raising the Bar Liquors is so excited to share our favorite unique vodka cocktails! Gathering with friends and family are moments to have fun and let loose.  For the grown-ups, that means it's time for making delicious and refreshing cocktails. These simple but unique vodka cocktails are great for any event year-round.
17 Favorite Unique Vodka Cocktails
1. Mimosa Bomb
If you have ever had a mimosa sake bomb, this is the same thing except that in place of the sake, use vodka (acceptable to drink at 11 am). Try using tangerine juice and tangerine vodka to make these unique vodka cocktails. However, a good orange juice, Burnett's vodka, and champagne are delicious too.
2. Pink Slurpee
Slurpees work surprisingly well at masking the flavor of alcohol, but if the only Slurpee machine around just has Coke, then you have to ad-lib by adding a little more alcohol. Use a bottle of rosé, lemon juice, sugar, and ice and you'll have a dreamy pink frothy glass of sunshine. An extra shot of vodka can also give it a nice kick.
4. The Beach
It kind of goes without saying, but this drink will taste just like a "sex on the beach," except with just one kind of booze. It's simple. Combine vodka and peach schnapps. And if you can't think of what to do with the remaining peach schnapps, make popsicles!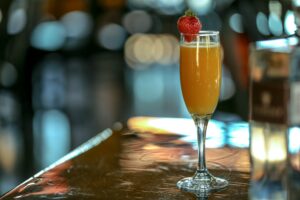 3. Kiss With a Twist
Just about everything about this drink seems wrong. Grapefruit and jalapeño are two very strange and obscure flavors, but combining them is oh-so-wonderful, making the perfect batch of unique vodka cocktails. It's a really fresh recipe, and not too complicated. Use grapefruit-jalapeño vodka, add a citrus drink (Sprite works) and refrigerate overnight. The next morning, use the yummy concoction to make a great Bloody Mary.
5. Sorbet Spritz
This drink looks and tastes like it would be expensive but it's really just an ice cream float when you get down to it. Since sorbet is sweet, pair it with champagne and vodka for the most refreshing drink you've had in ages. You'll be blown away how refreshing and good it is.
6. Krazy Kombucha
Nothing says unique vodka cocktails like Krazy Kombucha. What do you think, does Kombucha have any health benefits? There's certainly been a good deal of speculation over it, but never-the-less, it makes for a tasty carbonated and flavorful mixer. If you're a kombucha lover, you'll be a fan of adding a little vodka to the tea.
8. John Daly
It's pretty safe to assume that most everybody knows what goes in an Arnold Palmer. Half tea, half lemonade, and you can find it at most every gas station in the country. Golfer John Daly, however, is famous for adding a shot of vodka to his. Sweet tea and citrus vodka are perfect for this, but if you prefer the lemonade flavor more, just replace the tea with vodka and enjoy some delicious, unique vodka cocktails. 
7. Lemon Goodness
Perfect for a party. This drink is definitely the one to make for a big crowd, so break out the pitchers. Some people like to use champagne, but beer is a great choice to add to this drink. Start with vodka, add frozen lemonade concentrate, and pour in some light beer. Down the hatch.
9. Watermelon Fizz
There's no reason why we couldn't just call this drink a smoothie. If you drink enough of these, you'll achieve the required "five liquids per day." All you need are watermelon, vodka, and ice. An added kick requires a lime and liquid sweetener. 
10. Citrus Surprise
The delicious mint in this cocktail really makes it look like your bartending skills are professional, but it's really just another take on vodka lemonade. Limeade and mint added to vodka and ice, and turn into a wonderful vodka margarita.
12. Incognito
Most people are familiar with this sneaky trick. Any fast food cup works, but vodka and coffee is a ferocious double buzz.
11. Vodka Sangria 
The best thing about sangria is the soaked boozy fruit you snack on while drinking it. It's also a foolproof drink to make, but feel free to improvise with whatever is available. Start with white wine, add vodka, juice, and chunks of fruit. Extra alcohol is always an upgrade. Get out that pitcher again because this recipe will make lots of unique vodka cocktails.
13. Moscow Mule
A great choice when you want a vodka cocktail, no matter the time of year. The Mule is so refreshing. Just add ginger beer to vodka and squeeze in a lime. To make the mule more unique, try whiskey and lemon juice instead! 
14. Pamplemousse Cooler
It won't really work to just pour vodka into LaCroix. The flavors are too bitter to concoct anything very flavorful. But mixing Pamplemousse LaCroix, vodka, simple syrup, elderflower liqueur, and muddled cucumber makes a wonderful cocktail. Your guests will love these unique vodka cocktails.
16. Strawberry Mint Sparkler
Never let a strawberry season go by without making a few drinks. To make this one we muddle the fruit along with a simple syrup, mint leaves, lime juice, and then shake it with the vodka. Top it off with club soda. Yummy.
15. Great Gatsby
Let's just keep it real simple. This drink only needs three simple ingredients: vodka, grapefruit juice, and Lillet Blanc. Squeeze the grapefruit juice fresh and choose a good bottle of vodka. Tito's would be just perfect.
17. Tomato Martini
Are you wanting to flavor your Martini? The secret is natural ingredients. Try making a tomato-infused vodka. Serve it extra dry vermouth and a dash of white vinegar for highlighting the tomato.
Whether you're graduating from school, having a family gathering, an evening with friends, traveling, starting a new job, heading to a beach, or going for a winter getaway,  there's no better way to celebrate than with a fresh, unique vodka cocktails. These easy recipes are a great excuse to throw a fun party any time of the year.  Stop into Raising the Bar Liquors for a variety of vodkas.  We have you covered!