Festive spring and summer cocktails can be delicious but high in calories. If you're trying to cut back on your calorie intake but still want to enjoy happy hour and "Tequila Tuesdays", Raising the Bar Liquors has you covered. Finding low calorie alcoholic drinks may seem difficult when festive cocktails can range widely in calories. With Raising the Bar's eight best low calorie alcoholic drinks along with a few general tips, get ready to treat yourself to tasty cocktails without feeling guilty for the calorie intake. 
Tips for Low Calorie Alcoholic Drinks
Fresh is best. 
Fresh ingredients are always a healthier option. Try freshly squeezed lime or lemon and all-natural juices for more flavor and nutrients. With fresh ingredients, try and avoid mixers, energy drinks, tonic, and sugary sodas. Liquids like these can dehydrate you quickly and cause a nasty hangover. 
Cheers to Clears.
Raising the Bar recommends sticking with "clears" when searching for low calorie alcoholic drinks. Champagne, hard seltzers, and spirits on the rocks range from 60-100 calories. Enjoy the bubbly without the added sugars of many mixed drinks! 
Hydration Fixation
While drinking alcohol, getting your fix of water is essential to staying hydrated. We recommend having one glass of water per one of the low calorie alcoholic drinks. Additionally, try to drink plenty of water beforehand and afterward. Alcohol acts as a diuretic, causing dehydration. Hydrating with plenty of water should balance out your system, making your hangover pack less of a punch.
The 8 Best
Low Calorie Alcoholic Drinks
Mojito
Mojitos are common at happy hour and holiday parties for a reason! Delicious, healthy and easy to make yourself – all in one cocktail. Mint, lime, soda water, and rum is all you need to make this delicious drink for you and your friends. Ranging from 100 calories to 115 calories, mojitos are an exceptional choice for low calorie alcoholic drinks. 
(Tip: Many mojito recipes call for simple syrup. When at a bar or restaurant, request half the simple syrup or ditch it altogether to keep the drink low cal.)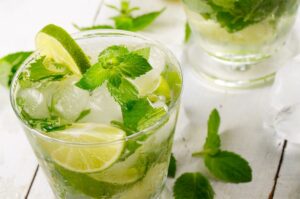 Tequila and Soda
Did you know tequila is lower in calories than Smirnoff vodka? Next time you're thinking of ordering a vodka soda, consider tequila as a substitute. Visit Raising the Bar Liquors to find the best, top-shelf tequila and with just a splash of soda and fresh squeeze of lime juice, you've got yourself a simple yet delicious low cal cocktail. At just 100 calories, tequila and soda will be your new go-to drink. Mix things up with fresh cucumber or oranges splashed into the tequila. 
Watermelon and Champagne Delight 
Raising the Bar's favorite flavor of the summer is watermelon. Low calorie alcohol drinks with simple ingredients are the best. Try fresh pureed watermelon, a splash of lime juice and your favorite champagne for 100 calories of a light and fresh cocktail to drink all summer long. 
How to make pureed watermelon: Place watermelon inside your blender, mashing the fruit to release some of the juice. Puree until the substance is smooth. Pour the watermelon puree through a strainer and let drain.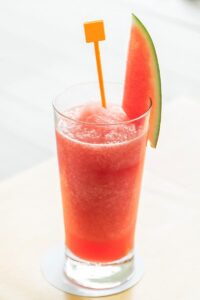 Light Beer
Raising the Bar Liquors is the place to find the best light beer. The best low calorie alcoholic drinks do not have to be fancy. Light beers can contain half to even a third of the calories that are in beers with higher ABVs. Our favorite light beers include Corona Light with 99 calories, Michelob Ultra with 95 calories, and Budweiser Select 55 with only 55 calories per bottle. Others you can drink guilt-free are Anheuser-Busch Light Pale Lager and Heineken Light. 
Skinny Ginger Mule
A staple in our low calorie alcoholic drinks list is the ginger mule. Traditional moscow mules contain vodka, ginger beer, and lime juice. Substitute diet ginger ale and fresh grated ginger for ginger beer to make the classic mule a healthy option. The healthier substitutes will cut at least 50 calories from the traditional mule. 
Red Wine
You've probably heard of a few health benefits that come with drinking red wine. Red wine contains the antioxidant, resveratrol. Resveratrol is known to lower risks of stroke, cancer, and heart disease. But, which red wines are the healthiest? What types of red wine fit into our low calorie alcoholic drinks list? 
Pinot Noir is known to have the highest concentration of resveratrol along with a lower initial sugar level before fermentation. While Pinot Noir is the healthiest choice of red wine, also consider choosing a Merlot. Both a glass of Pinot Noir and Merlot have less than 125 calories, making them our favorite low calorie red wine options.
Cucumber Refresher
Easily the most refreshing of our low calorie alcoholic drinks is Raising the Bar's Cucumber Refresher. Find your favorite cucumber flavored vodka, soda water, lime wedge, and a few mint leaves. Muddle or smash the mint leaves, lime and vodka together. Add ice and top with soda water. At just 86 calories, the cucumber refresher is sure to be a favorite this season. 
100 Calorie Margarita
Margaritas are a crowd favorite, but do not necessarily fall into the list of the most low calorie alcoholic drinks. However, with Raising the Bar's low calorie margarita recipe, get ready to enjoy the cocktail without the added sugars and calories. Ingredients include 1.5 ounces of your favorite tequila, four slices of cucumber, two slices of jalapeno, a squeeze of fresh lime juice, and two packets of Splenda. Add all the ingredients together with ice, and cheers! Your new favorite low calorie cocktail awaits.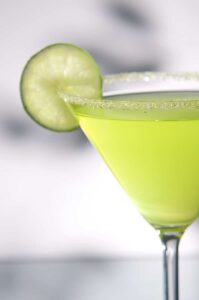 Final Thoughts on the Best
Low Calorie Alcoholic Drinks
Even without the added sugars and calories, there are still tasty drinks and cocktails to enjoy. From a delicious pinot noir to a refreshing cucumber cocktail, we hope you found your new favorite low calorie alcoholic drinks to cheer your friends and family with. Raising the Bar Liquors is where you can find your favorite wine, spirits and craft beer. Visit us today, and check out our website to learn more about your favorite hometown liquor store.