Spooky season is just around the corner, and Raising the Bar Liquors can't think of a better way to celebrate the season than with a Halloween cocktail in hand. In this article, we give our top 10 favorite spooky libations. Your guests will be filled with excitement as they party the night away with these seasonal cocktails. Read on as we dive into the top 10 Halloween cocktails!
10
Boozy Halloween Drinks
Creamsicle Cheesecake
This recipe yields 4 servings and takes just 5 minutes to prepare. You'll need the following ingredients for this recipe:
Chocolate sauce

Crushed Oreos

3/4 c of orange sherbet

Eight oz of milk

Whipped cream

Black and orange sprinkles
Pour 2 tbsp of chocolate sauce into a really shallow plate followed by some of the crushed Oreos into another plate. The rims of your glasses should be dipped into the sauce and then the crumbs. Next, you'll need to combine the vodka, milk, and sherbert by blending them together. 
Be sure to drizzle some of the chocolate sauce inside each glass before you fill it. You can garnish with the remaining ingredients to make a beautifully spooky drink. 
Poison Apple
Evil Cocktails
If you've ever loved glitter as a child and maybe once or twice dreamed of tasting the sparkles, well now you can with this crafty Halloween cocktail. This recipe makes just one serving in five minutes but it's more than worth it. 
You'll need to following ingredients:
Apple cider 1/3c

Cranberry juice 1/3c

Fireball 2 oz

1 oz Grenadine

1/4 tsp of gold glitter

Ice
All of the above should be combined into a blender or a shaker and fill with ice. Blend until everything is properly mixed and the shaker is cold. After just 30 seconds, your poison apple cocktail will be in all its sparkly glory and ready for anyone who dares to take a sip.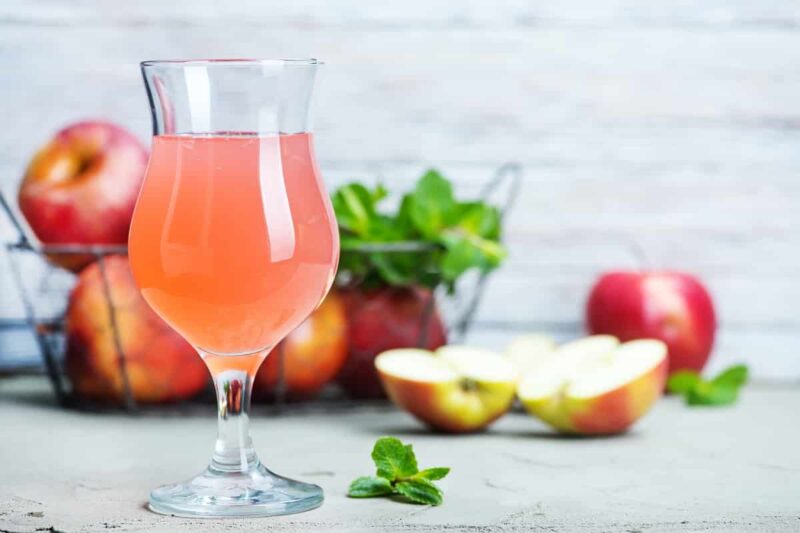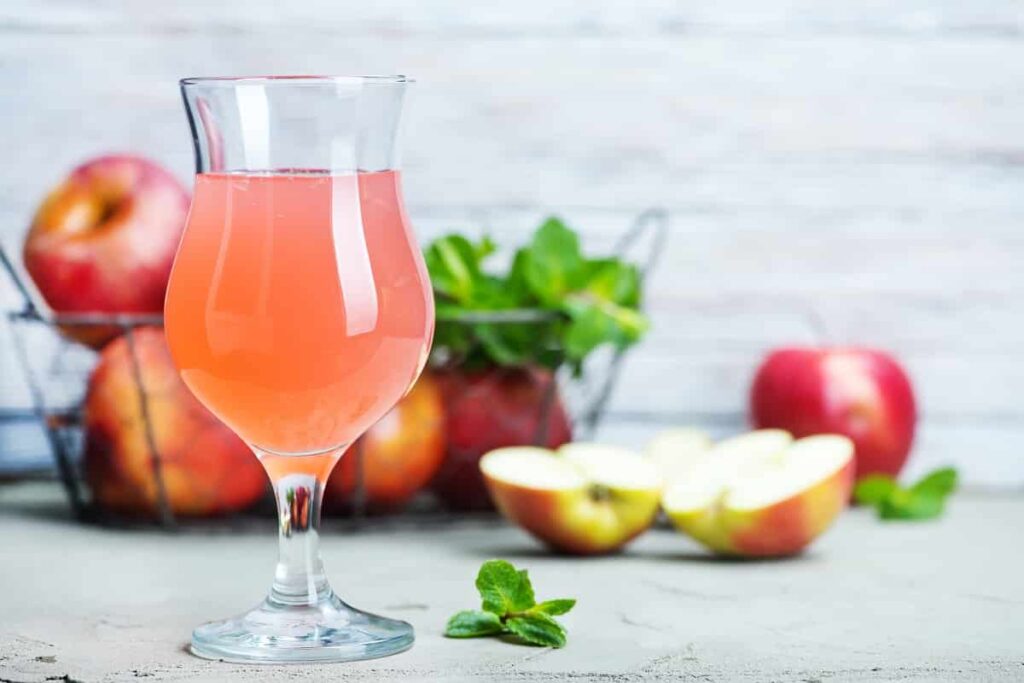 Jekyll And Gin
Some boozy halloween drinks take no time at all including the Jekyll and Gin. In 5 minutes, with the following ingredients, your cocktail will be ready to enjoy:
3 oz of Gin

1/2 of an oz of lemon juice

1 teaspoon of grenadine 

Tonic water

Ice
Mix the lemon juice, grenadine, and gin with either a blender or a cocktail shaker. At this point, you're just about ready to pour into a glass of ice and top with some tonic water. If you're looking to add some personality, simply top with a glow stick. 
Bloody Mary
Bloody Mary syringes make the perfect spooky cocktails to have at your party. Be sure to look out for food-safe syringes in order to make these. If syringes aren't available, these Bloody Mary's are the best classy Halloween cocktails, perfect for all guests. Prep time is only 5 minutes with these ingredients:
2 c of tomato juice

8 oz of vodka

2 tablespoons of Worcestershire sauce

1 tablespoon of horseradish

2 teaspoons of Tabasco or hot sauce

Freshly ground black pepper

The juice from half of a lemon
Combine all ingredients in a large bowl and whisk. Fill each syringe with your cocktail and serve cold. Syringes aren't necessary, however, Simply spread salt and pepper on a plate, dip a pint glass in lime juice then seasonings. Fill with ice and pour the Bloody Mary mixture in!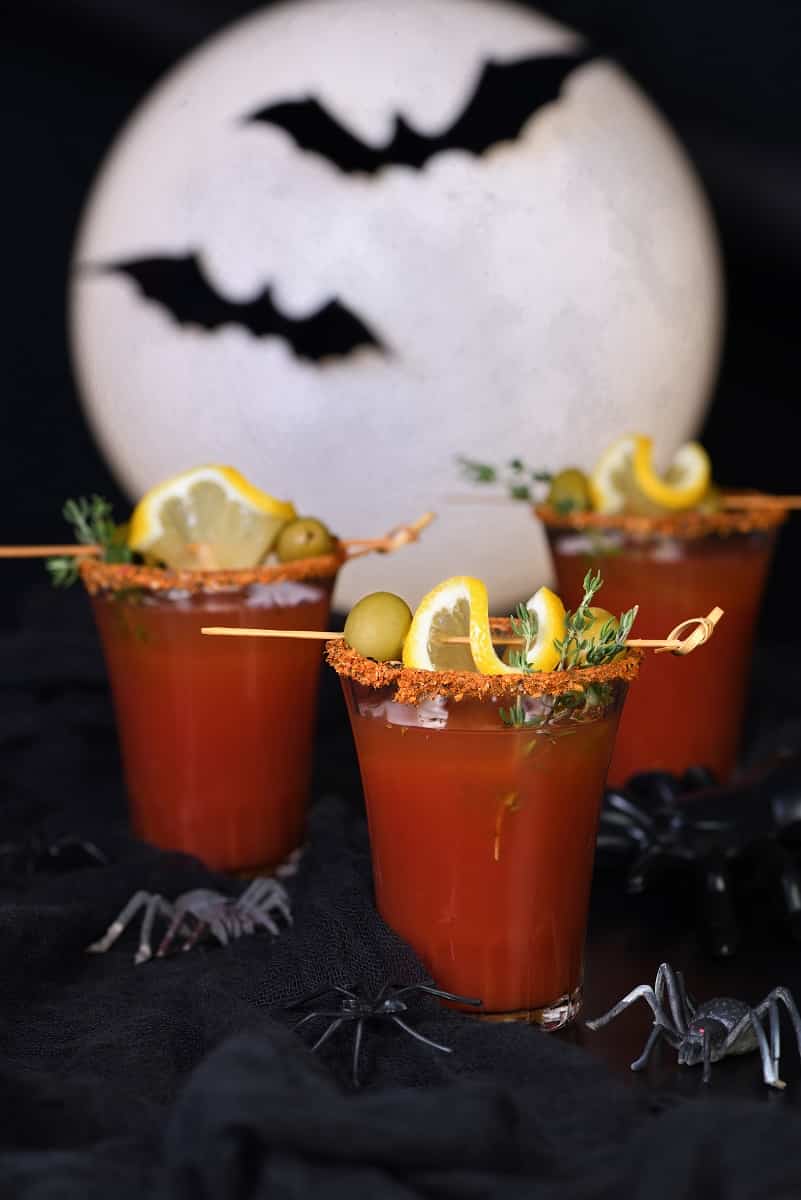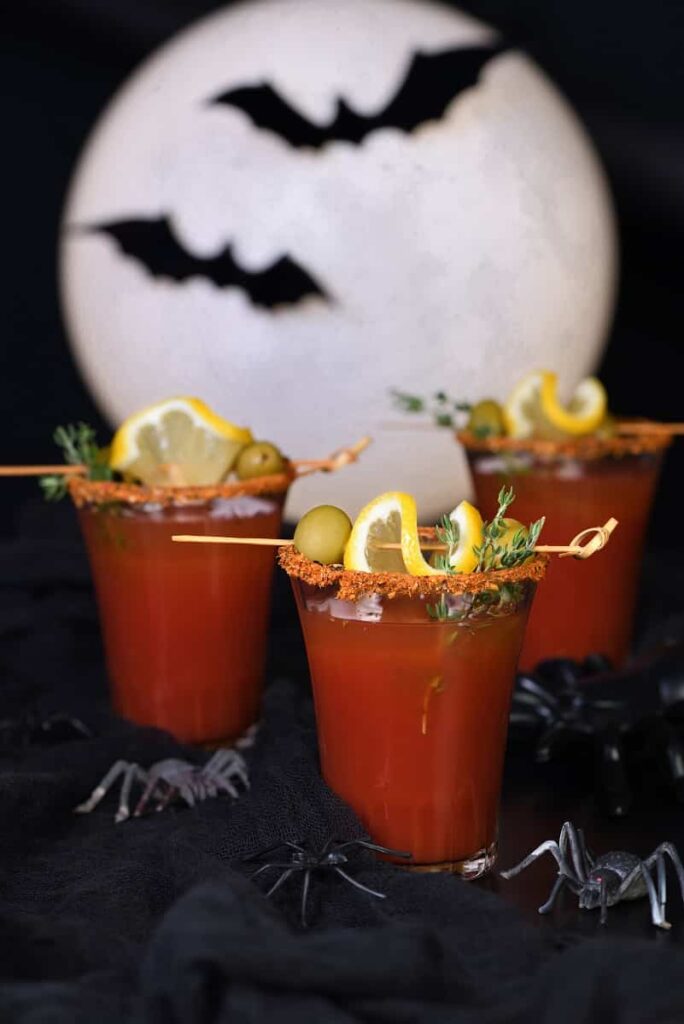 Dark Cocktails – Black Magic Halloween Margaritas
Take your halloween craft cocktails to the dark side with our Black Magic Margarita. The following ingredients are used for creating one of the best halloween margaritas that you've ever had in life. 
Gin 3 oz

1/2 teaspoon of lemon juice

Tonic water

Ice 

1 teaspoon of grenadine
Combine the grenadine, gin, and lemon juice into a cocktail shaker or a blender. Next, pour it into an iced filled glass and top with tonic water. Keep the glow sticks from the previous cocktail handy, and garnish your Black Magic Margarita.
Bourbon Milk Punch 
If you're looking for something stronger, this one packs a serious punch. The bourbon punch is combined with honey for that Southern dream that you won't be able to get enough of. It yields 4 servings and takes just 20 minutes to complete. Ingredients include:
Caramel

2 tablespoons of cinnamon sugar

Half of a quart of vanilla ice-cream

1 c of bourbon

1 teaspoon of vanilla extract

1 teaspoon of honey

1 teaspoon of ground cinnamon

Whipped cream
Using a shallow dish, you'll need to rim two of the glasses with cinnamon sugar and caramel. Next, combine honey, vanilla, cinnamon, bourbon, and ice-cream in a blender and blend until you have a smooth mixture. Pour into glasses and garnish with ground cinnamon and whipped cream.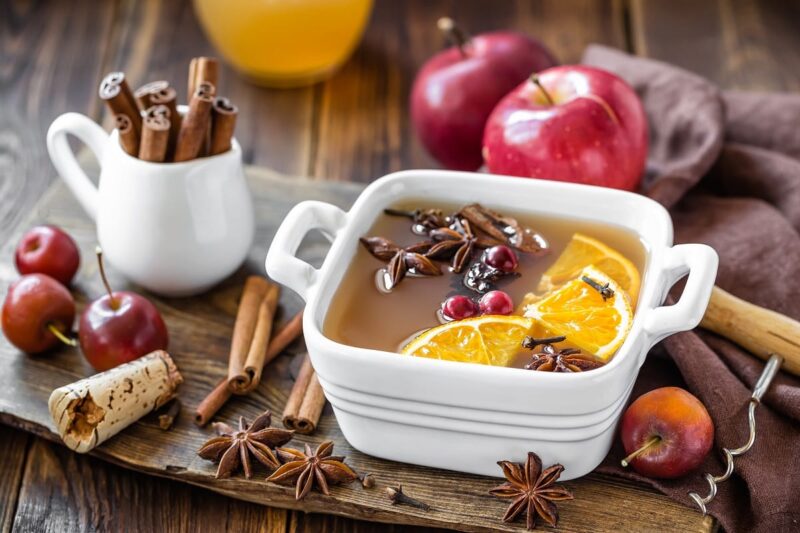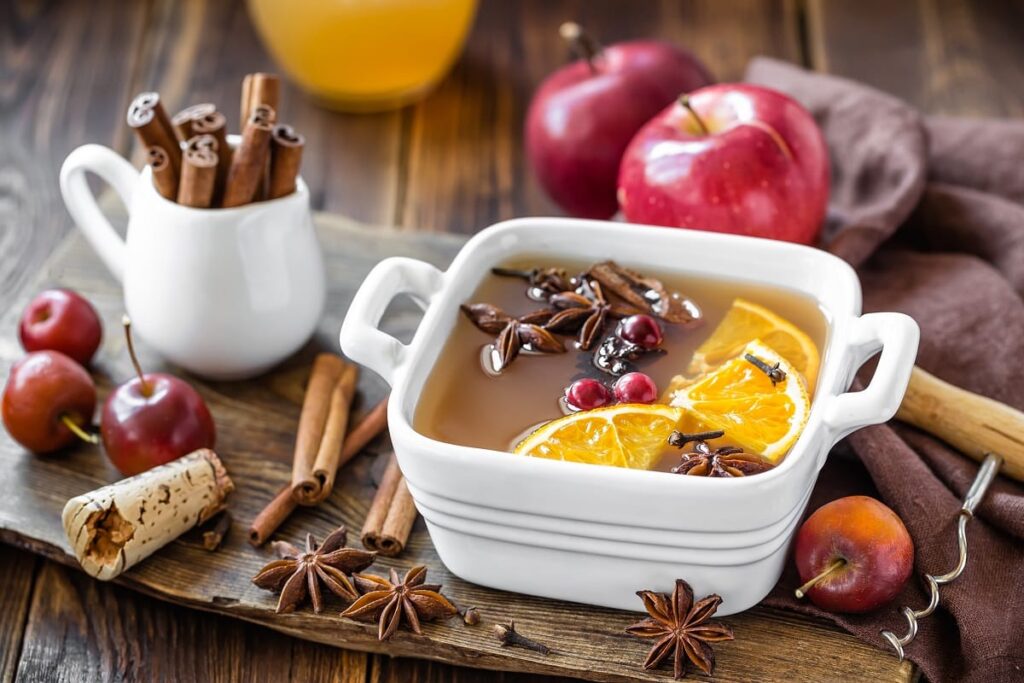 Color Changing Margaritas
More Halloween margaritas are just a visit to the store away! Our Color Changing Margaritas are the best halloween drinks in the game and call for (surprise) cabbage. The cabbage is used to add the most gorgeous shade of fuchsia that you've ever seen. Did we mention that it's also fluorescent? This mixture serves 4 and just like all the others, takes only 5 minutes to make for quick and easy cocktails. Ingredients include: 
2 c of purple cabbage sliced

4 c of boiling water

8 oz of tequila

4 oz of triple sec

3 oz of lemon juice

1 c of lemonade

Lime wedges for garnishing the glasses

Salt for the rim
First, place the cabbage in a bowl and pour water over it. Ideally, you should let it sit for 5 minutes until the water becomes deep blue. Next, you'll need to strain the cabbage and let the water cool. When the water is at room temperature, place in ice trays and freeze for about 4 hours. 
In a measuring cup, combine all other ingredients. Be sure to dip the rims of the glasses with a lemon wedge and dip it in salt. Put the ice cubes in the glasses and share the mixture equally. Don't forget to garnish with those lime wedges!
Sweet Poison Halloween Cocktail 
Last, but not least, on our favorite halloween craft cocktails list is the Sweet Poison Cocktail. If you're looking for halloween cocktails rum filled, this is the spooky cocktail for you! This recipe yields 1 glass and it takes just 5 minutes. 
1 oz of a light rum

2 oz of coconut rum 

1 oz of blue curacao

Pineapple juice

Ice 

Pineapple wedges
Combine the different types of rum and blue curacao in a blender or shaker with ice. Shake and pour into serving glasses. Pour pineapple juice and garnish with the fresh pineapple wedges!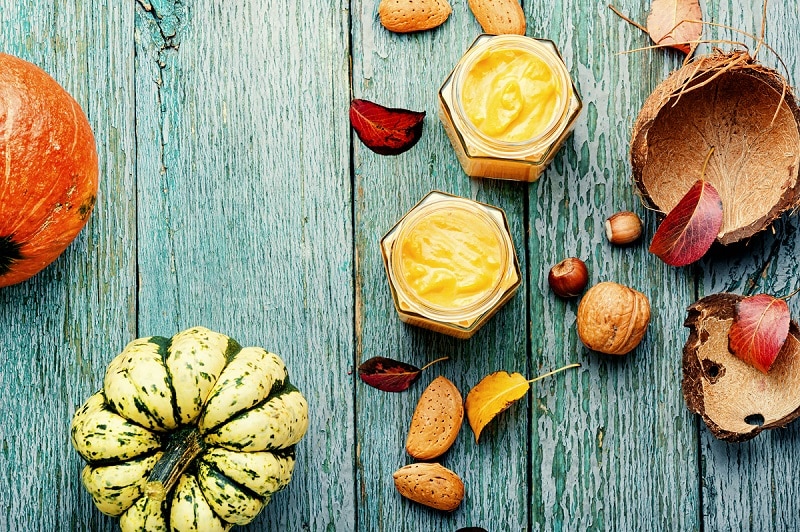 Drunken Peanut Butter Cups 
Reese's Pieces and vodka, what more can you ask for in boozy halloween drinks? This combination yields just two servings but it takes the idea of a chocolate martini to another level. Read on as we dive into the ingredients of the drunken peanut butter cups: 
1 c of Vodka 

1/2 c of Reese's pieces 

Ice

3 oz of the infused vodka

Milk 3 oz

2 oz of chocolate liqueur

1/4 c of peanut butter

1/2 c of crushed pieces for the glass

2 Reese's peanut butter cups for garnishing

2 tablespoons of chocolate syrup
Using a mason jar, combine Reese's pieces and vodka. Next, you'll need to cover the jar and shake. Be sure to refrigerate overnight and then strain for future use. Place the ice in a shaker and pour the vodka, milk, and chocolate liqueur; shake until the mixture is properly chilled. 
Put the crushed pieces on a plate and the peanut butter on another. Dunk the glass tops in the peanut butter and roll them around in the pieces. Drizzle some of the chocolate syrup into the glasses and share the mixture. Don't forget to garnish with the peanut butter cup!
Apple Cider Slushies
These are perfect for just about any time of the year, but especially for the Halloween season. Apple Cider Slushies are the best icy cold treat. This is another classic 5-minute prep and it yields 2 servings. Keep reading for ingredients needed: 
3 c of apple cider 

Juice of 1 lemon 

Ground cinnamon 1/2 tsp

Mini cinnamon-sugar doughnuts 
Pour the lemon juice, cinnamon, and cider into a loaf pan and whisk to combine. Freeze the mixture for about 1 hour and then remove it from the freezer. Use a fork for scraping the mixture to create that slushy consistency. When you're finished, be sure to place the mixture into the freezer again; remove and scrape one more time. Serve in 2 glasses and garnish each with the mini doughnuts. 
We hope you find your favorite Halloween cocktail in this list, and consider making these boozy spooky cocktails at your next get together during this season. The top 10 Ghoulish Halloween cocktails will leave everyone with something to remember. So, head to Raising the Bar Liquors to find exactly what you need. Cheers!